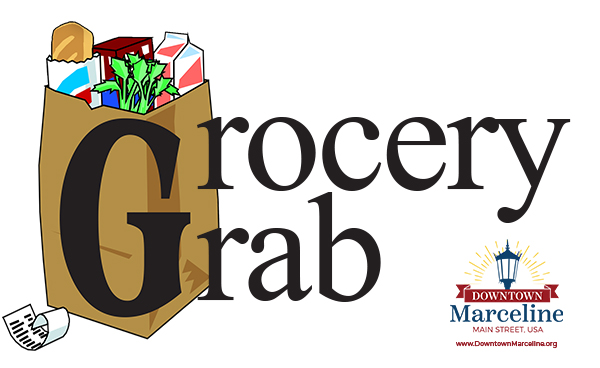 Get on your mark… get set… get ready to GRAB SOME GROCERIES at Prenger Foods in Marceline! That's right, Downtown Marceline, in conjunction with Prenger Foods, is doing another Labor Day Grocery Grab!
Buy your tickets on Main Street USA for a chance to win a 2-minute shopping spree at our favorite grocery store in Marceline – Prenger Foods. Tickets are $10 each, or 3 for $20. Buy at these supporting businesses starting August 1st:
Tickets are on sale at these locations until the close of business on Friday, August 26 – but you can still buy tickets in person on Saturday, August 27th at the 10th Annual Marceline Wine & Art Stroll.
Prizes:
1st place – 2-minute shopping spree
2nd place – $100 gift card at any Prenger Foods
3rd place – $50 gift card at any Prenger Foods
Gift cards sponsored by Prenger Foods
Winners will be announced at the end of the Wine & Art Stroll, around 8:00p. The Grocery Grab will take place at Prenger Foods in Marceline on Thursday, September 1, 2022. We'll also post the winners on our website by the next day.
Be sure to read the complete set of rules below, but here are some important ones:
The name on the ticket is the winner. Only an immediate family member can take your place for the Grocery Grab event.
If we do not get a confirmation from you, another winner will be drawn.
---
Frequently Asked Questions
Q: What is the "Grocery Grab"?
A: It is a 2-minute timed shopping spree through Marceline Prenger Foods. You may fill your cart with as many items as possible before your time is up – all at NO cost to you. Downtown Marceline pays the bill.
(Rules/Exclusions apply)
Q: Where are tickets sold?
A: Tickets are available in person at Prenger Foods, Magnolia Antiques, C & W Hardware, Busy Bee, and The Paper Station on Monday, August 1st. Last day to purchase tickets is Saturday, August 27th.
Q: What if I win, but I'm not able to participate on September 1st at 7pm?
A: You may designate a family member, over the age of 18.
Q: Can I bring family and friends?
A: Yes! They may cheer for you, but can't help you physically.
Q: What are some of the Rules & Exclusions?
A: Rules: Limit of 2 minutes. Limit 2 of any like kind item. Limit $100 in fresh/frozen/seafood meat departments. Exclusions: alcohol, tobacco, milk, medications, gift cards, lottery tickets, deli, floral and gifts. (Click here for a complete list of Rules/Exclusions.) Winner must be 18 years or older and able to sign a waiver.
Q: When and where is the event?
A: The timed shopping spree will take place at Marceline Prenger Foods on September 1st, 2022 at 7pm. Semi-Finalists will be notified after the drawing on August 27th at the Downtown Marceline Wine Stroll.